Spatia AirPlay Speaker
Gray / Black (TW)
Spatia's excellent sound quality and attractive design makes it the perfect AirPlay speaker for any home or small office.
FIVE-SPEAKER DESIGN
Rich, wide soundstage
The single-enclosure, three-way system features five individual speakers: two 1-inch silk dome tweeters, two 2.75-inch mid-range drivers, and a 4-inch downward firing subwoofer. Two Class-D amplifiers drive the high/mid, and low frequencies separately while advanced circuitry comprising two discrete DSP chips and digitally-tuned crossovers gives wider sound imaging reproduction. This produces smooth highs, luscious mids, and deep lows with excellent tonal balance even at high output levels.
WORKS OVER AIRPLAY
Stream audio from your device
Spatia connects to your WiFi network to receive high-quality, lossless audio wirelessly from your AirPlay-compatible iOS device. Setup is easy—simply connect Spatia to your iPhone or iPad using your Lightning cable and it will automatically find your WiFi network. If you don't have a WiFi network, use WiFi direct mode to stream straight from your phone or tablet.
CONNECTS TO ECHO DOT
Give your smart speaker big sound
Turn your Echo Dot smart speaker into a whole-room audio system by connecting it to Spatia using a 3.5 mm aux connection and open up a whole new world of audio possibilities. Ask Alexa to play your favorite tunes with rich, luscious Spatia sound, or use Echo Dot as a Bluetooth bridge to stream audio wirelessly from your phone or tablet to Spatia. Spatia's auto-sleep function turns it to standby mode when not in use to preserve power, and back on again when it detects Echo Dot's audio.
SPATIA SPEAKER APP
Make Spatia your own
Simply download Spatia's dedicated app and follow the setup instructions to start listening to your music. The app also features an adjustable equalizer that allows you to customize and save preferred sound profiles. As an added bonus, a curated suite of ambient sounds is included to aid sleeping and relaxation.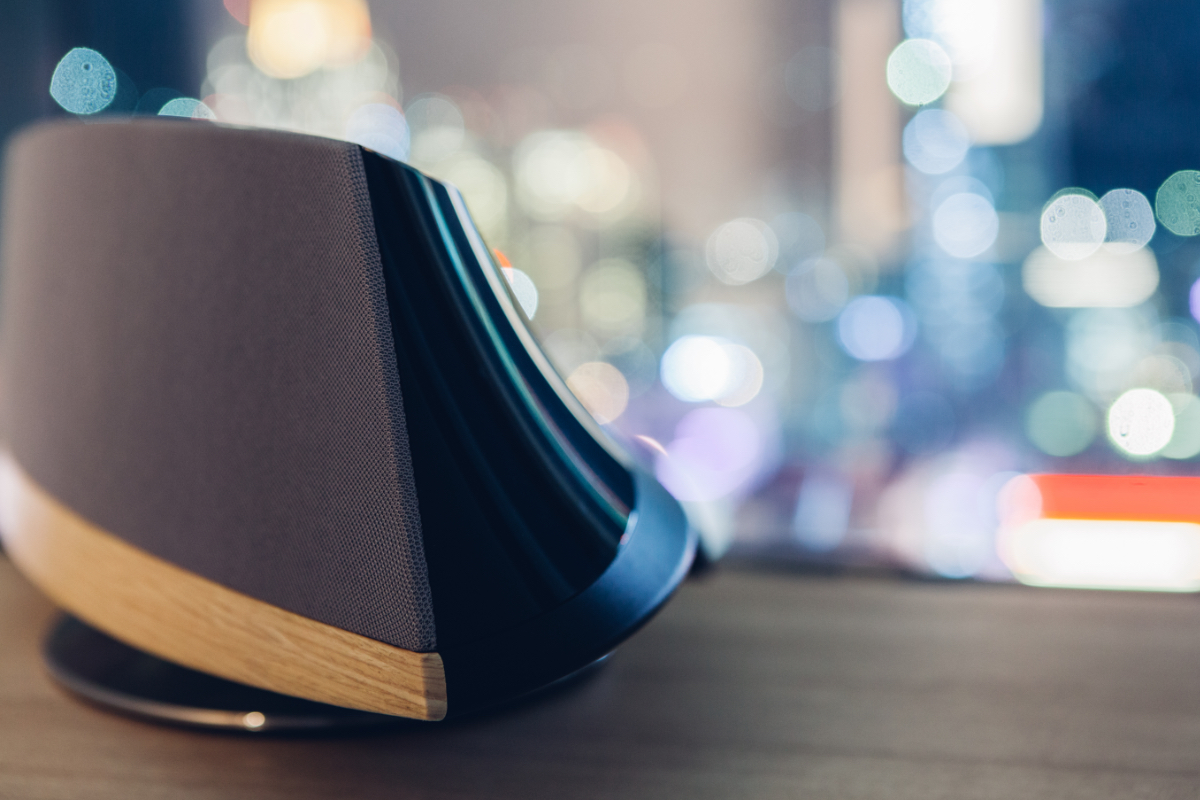 AMBIENT SOUNDTRACKS
Relax with Spatia
As an added bonus, the Spatia app features a curated suite of ambient sounds to aid sleeping and relaxation. Choose from soothing sounds including light rain, white noise, ocean waves and more to provide a stress-free background and ease you off to sleep or help you relax after a long day.