Avanti Air Bluetooth On-ear Headphones
Jet Black
Ideal for wireless music lovers with a keen eye for design. Featuring ergonomic earcups with XR40 extreme-resolution drivers.
Every Moshi product is backed by a standard two-year warranty. Products purchased on moshi.com are automatically enrolled in our 10-year Global Warranty program.
Dimensions: 7.87"x 7.09"x 2.17"(20 x 18 x 5.5 cm)
Transducer Unit: XR40 high resolution 40mm neodymium drivers
Frequency Response: 15 - 22,000 Hz (-10 dB@1 kHz)
Impedance: 32 Ω
Bluetooth Version: 4.2
Codec: AAC, SBC, Modified SBC, Apt-X
Bluetooth Range: 30 ft (10 m)
Paired Devices: up to 8
Battery: 520 mAh
Talk/Music Time: up to 27 Hrs @ 50% volume
Charging Time: 2.5 hrs using USB-C port
P/N: 99MO035008
ERGONOMIC DESIGN
Long-wearing comfort
Avanti Air's curved headband is ergonomically engineered to position the soft, adjustable earcups at the perfect angle of 14 degrees to form a perfect, noise-isolating seal while exerting minimal pressure on your ears. Soft and breathable leatherette gives a luxurious feel on your head and ears, while lightweight stainless steel won't weigh you down. Enjoy your favorite tracks for hours without fatigue.
ADVANCED 40 MM DRIVERS
Compact size, big sound
High-resolution XR40 neodymium drivers (15 Hz-22 kHz / -10dB@1kHz) deliver a full-bodied sound that rivals the audio quality of much larger headsets. High-density fiberglass composite housings are 40% stronger than plastic to reduce vibrations and and ultra-light cellulose membranes enable high-precision sound reproduction. A dual bronze ring clasping enables greater diaphragm travel for robust bass and distortion-free mids/highs, resulting in an intricate and immersive soundstage with wide dynamic range.
ROTATING HEADBAND
Designed for portability
Avanti Air not only look great but also travel well. The unique rotating headband design allows the earcups to fold up into the headband, reducing device footprint. The folded headphones then fit neatly into the included travel case, protecting them from any bumps, knocks, or drops they may encounter on your travels.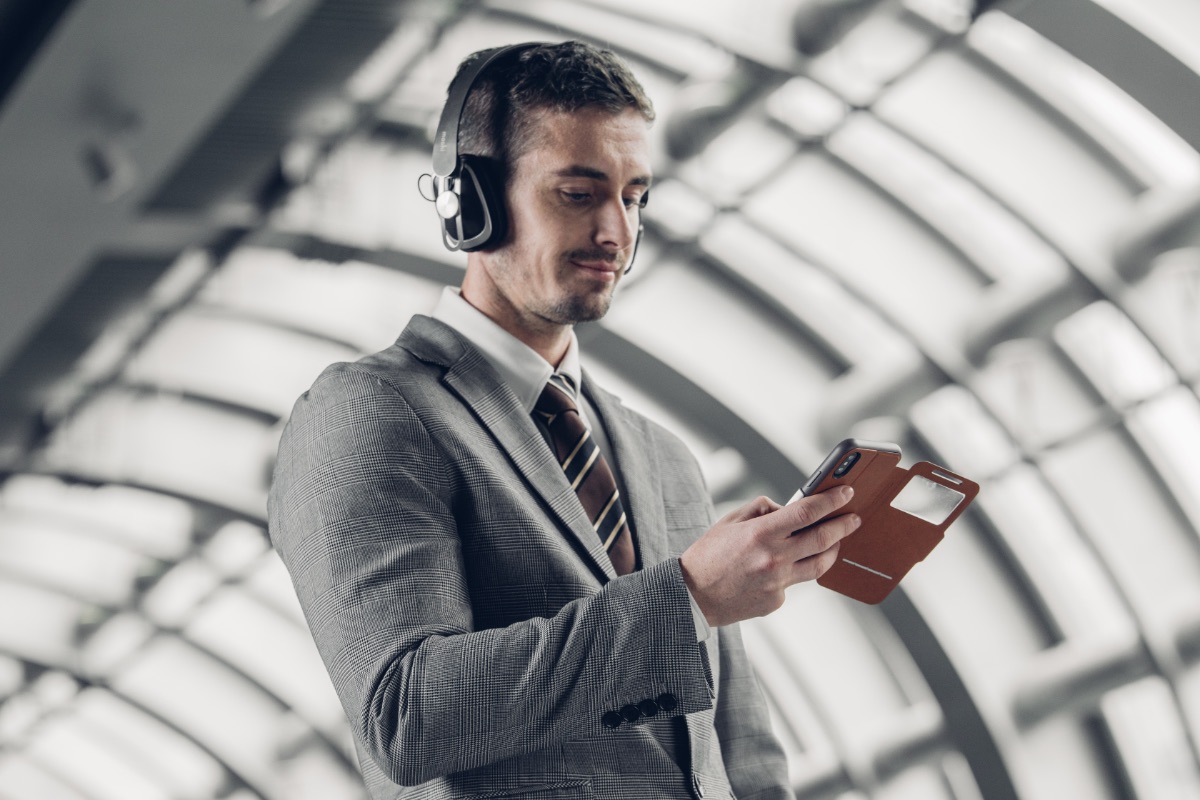 27-HOUR WIRELESS PLAYBACK
Don't stop the music
Get through long flights or a week of commutes on just one 2.5-hour fast-charge. If you're in a hurry, Avanti Air can provide a 4-hours of listening with a quick-charge of just 15 minutes. Avanti Air works with any smartphone or tablet that supports Bluetooth technology, giving you true wireless freedom while listening.
EARCUP CONTROLS AND MIC
Wire-free control
Discrete control buttons on the earcups allow you to play/pause, skip tracks, turn volume up/down, and answer/end calls without taking your phone or tablet out of your pocket. A built-in microphone with Clear Voice technology handles calls with ease and supports voice activation of virtual assistants such as the Google Assistant and Siri.
APP
Bluetooth Audio
Moshi's Bluetooth Audio app works with any set of Moshi Bluetooth headphones. It allows users to take advantage of our proprietary DJ4two™ functionality that lets your friend to listen to the same music you're listening to so you can enjoy your commuting and traveling together, comfortably and without wires. Compatible with Moshi Bluetooth headsets only.
Every Moshi product is backed by a standard two-year warranty. Products purchased on moshi.com are automatically enrolled in our 10-year Global Warranty program.
Dimensions: 7.87"x 7.09"x 2.17"(20 x 18 x 5.5 cm)
Transducer Unit: XR40 high resolution 40mm neodymium drivers
Frequency Response: 15 - 22,000 Hz (-10 dB@1 kHz)
Impedance: 32 Ω
Bluetooth Version: 4.2
Codec: AAC, SBC, Modified SBC, Apt-X
Bluetooth Range: 30 ft (10 m)
Paired Devices: up to 8
Battery: 520 mAh
Talk/Music Time: up to 27 Hrs @ 50% volume
Charging Time: 2.5 hrs using USB-C port
P/N: 99MO035008